Eyewear in harmony with nature
Eco-friendly wooden sunglasses handcrafted from sustainable materials
View products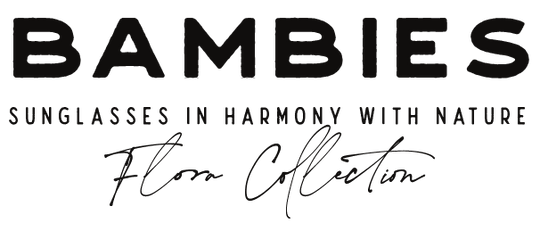 Bloom into summer with Bambies
FLORA: Eco-friendly sunglasses honoring nature & people. FCS certified wooden frames & plant-based lenses
SHOP FLORA
Why Choose Bambies Eyewear?
Our range of bamboo wooden glasses are high strength tech with blue light blocking properties. These wooden frame glasses can help you to protect your eyes when you always spend long hours
working behind computer screens or any other electronic device that emit blue light.
Blue-light eyeglasses also increases contrast giving you a comfortable view when using
your digital screens for extended periods.
The surface is natural wood wax oil. These Bio-based frames are laminated with rosewood, ebony, and carbon fiber with a non-toxic plant-based treatment for a pure finish to ensure durability and strength.
Opening Slot
Bambies eco-glasses have a easy opening slot to easily replace the lense to cover you during work and also when you are exposed to sunshine.
Natural Wood Veneers with Carbon Fiber
The optical frames have a middle layer of carbon fiber that makes the glasses frame stronger.
Sunglasses
Our glasses are pressed by 8-12 layers of wood veneer that are 100% natural.
We're about the planet. And we're about design.
Bambies high quality eco-friendly eyewear are handcrafted with sustainably sourced natural materials. Our environmentally friendly lenses are made from plant based cellulose and have UV400 protection or blue light blocking properties.

Sustainable
Sunnies and glasses made sustainable with wood timber from FSC (Forest Stewardship Council) approved sources.
Simple & secure checkout
Our online sunglasses and glasses store secure checkout is quick and easy to use. All cards accepted.
24/7 Customer Support
Have eyeglasses questions? Get in touch with our friendly glasses team at any time.
Free Shipping
On all eyeglasses orders over $30 AUD